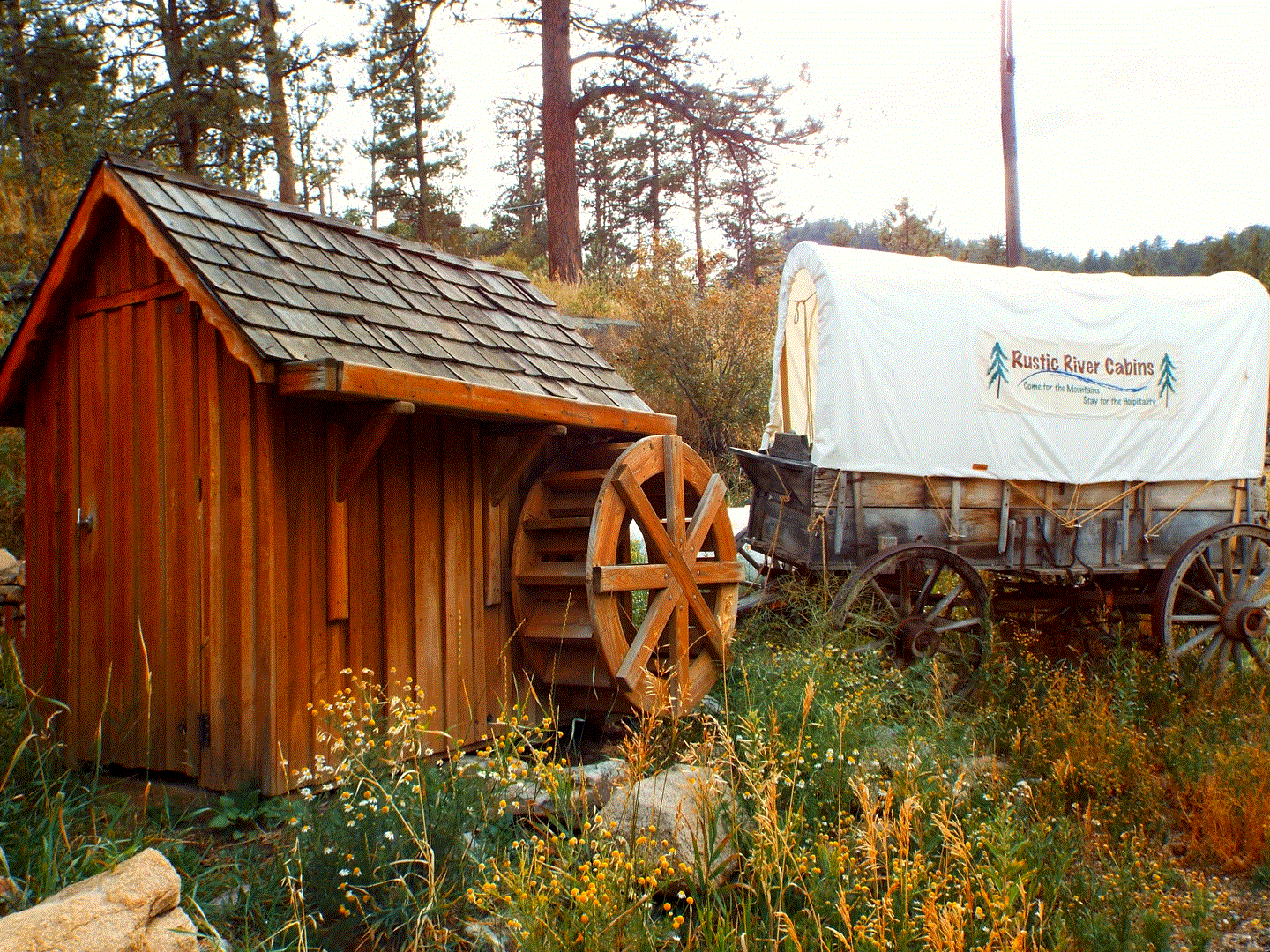 What are the Service Dog Laws in Colorado?
I am bringing my dog with me; can I keep my dog in the cabin when I am not there?
Yes; you must bring a kennel with you so you can leave your dog for short periods of time. We do not want to disturb the other guests with barking dogs while you are away from your cabin.
The $35.00 pet fee does not include replacement of chewed on, scratched on, or urinated on furniture or carpet. If your dog is a chewer, please don't leave them unattended.
You will find a "dog basket" in your cabin. It contains a sheet to put where your dog likes to sleep, a towel to wipe off dirty paws from playing in the river, and small trash bags for poop pick up. There is plenty of space at Rustic River Cabins for your dog to do his or her duty, but if your dog needs to run, Estes Park has a dog park. It is about 4 miles from Rustic River Cabins and we are happy to give you directions.
We do have 16 acres of wildlife trails, but you will want to make sure you have your hiking boots on to take your dog for a long walk. If you change cabins within your stay, you will be charged the same pet fee for moving to that cabin.
You are responsible for cleaning up after your pet so please don't forget the baggies.
My dog is very well behaved; do I need to keep them on a leash?
We love our guests and their pets so please keep your pets on a leash. We are right on Highway 34, which is a very busy road and people drive very fast.
The leash is also a good idea as we sometimes have other guests and their children who may not be comfortable around dogs.
We want all of our guests to feel comfortable walking the property and enjoying the gardens and the river.
I am not familiar with a septic system; what do I need to know?
The only paper product that should go into the septic system is the toilet paper provided in each cabin; do not flush paper towels, cotton balls, or even Kleenex tissues as those items will not dissolve.
Trash bags are provided in each bathroom for items you may normally dispose of down your toilet at home, such as condoms, personal wipes, tampons and other feminine products.
Wrap anything you don't want people to see in toilet paper and put in the trash can.
"Those of us with septic tanks,
Would like to give a word of thanks,
For putting nothing in the pot,
That isn't guaranteed to rot.
Kleenex is bad, cigarettes too,
Feminine products are taboo,
No hair combings please – use the basket.
There's a very good reason why we ask it.
With your kind cooperation
We'll keep our tank in operation!"
What should I do with cooking grease since it cannot go down the sink?
Each kitchen has a white container labeled "Grease" with a small bag inside for you to dispose of any cooking grease you may have. If you need a new bag, let James or Jeanine know.
Is there a grill provided?
Yes, we have charcoal grills at each cabin that are cleaned daily. You will need to bring your own charcoal. Please do not make a wood fire in the grills as they are provided only for cooking.
Is there a place provided for a campfire?
Yes, we have a fire ring at the end of the driveway. Most of the year, we will provide the firewood from fallen trees on the property.
Throughout the year, there may be Colorado state-mandated fire bans in effect; during those times, we will have a sign posted at the fire ring preventing any fires from being built.
Is the fireplace in the cabins a working fireplace?
Please bring your own firewood and kindling from home or you can purchase it in Estes Park.
All of the local grocery stores, gas stations, and big box stores sell firewood that is perfect for use in our cabins' fireplaces. Please do not use the paper towels from the kitchen to start a fire in your cabin's fireplace; doing so can create an unsafe, smoky mess inside your cabin. Please note that cabin 2, Bears Paw, no longer has a wood burning fireplace.
We are arriving in the winter; do you have heaters in the cabins?
Yes, we have heaters in each of the cabins. All of our cabins are now insulated, but they are older structures so please bring slippers and warm pajamas.
We have extra quilts in each cabin for the really cold nights.
What do I need to bring to enjoy the hot tub?
We provide white towels in the cabins for you when going to the hot tub.
Flip-flops or easy slip-on shoes are a very good idea so you don't get any dirt in the hot tub.
A robe is also a nice idea if you have the space in your suitcase.
This is my first time visiting Colorado, what do I need to bring with me?
Sunglasses, sunscreen (all year round), Chap Stick, a good pair of hiking shoes and clothes you can layer.
The weather can change fast and can be different at various altitudes.
Make An Online Reservation.